Trillium USA Made Liquid Hand Sanitizer Spray with 80% Alcohol, 4 Fl Oz (Pack of 4)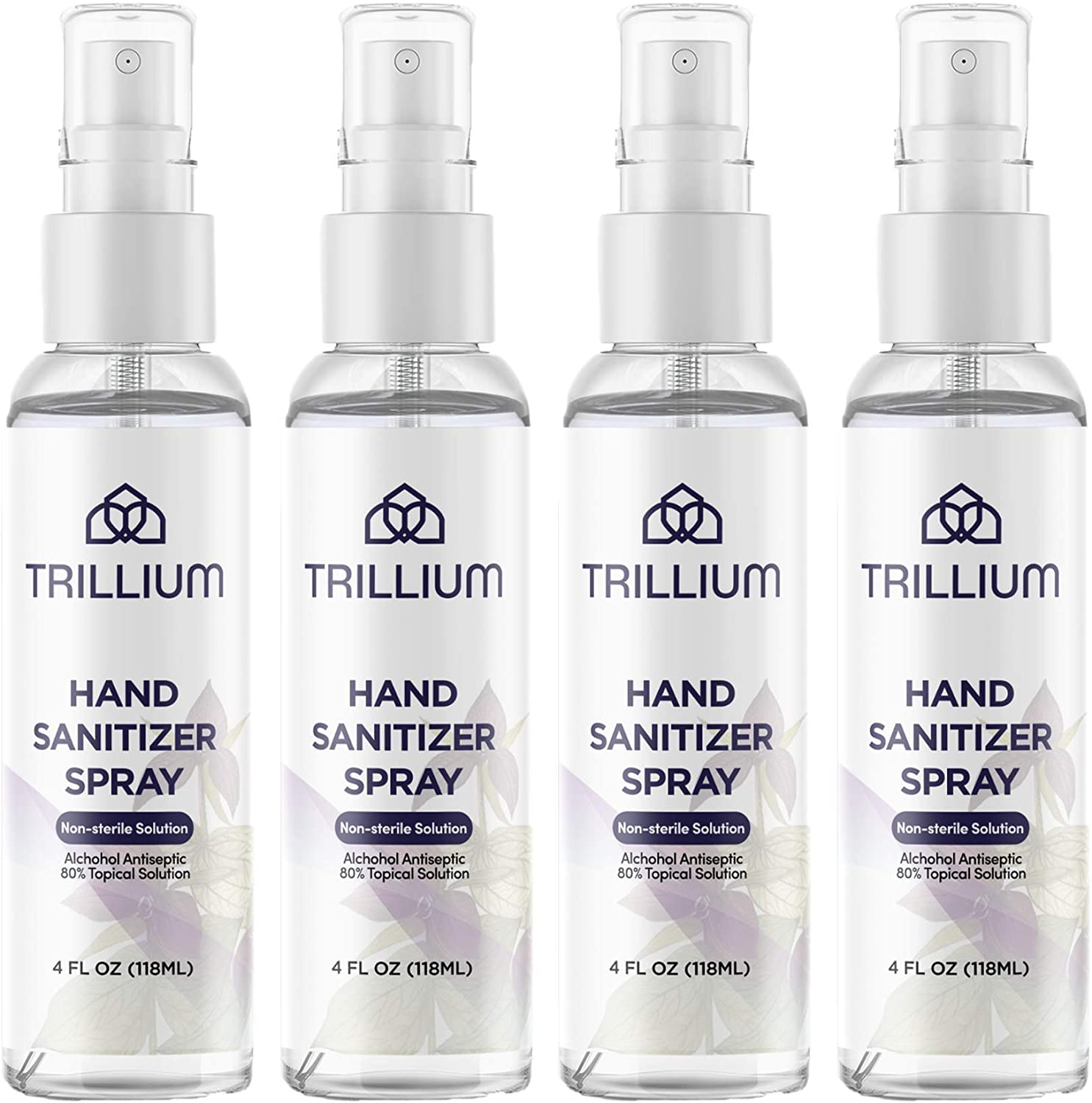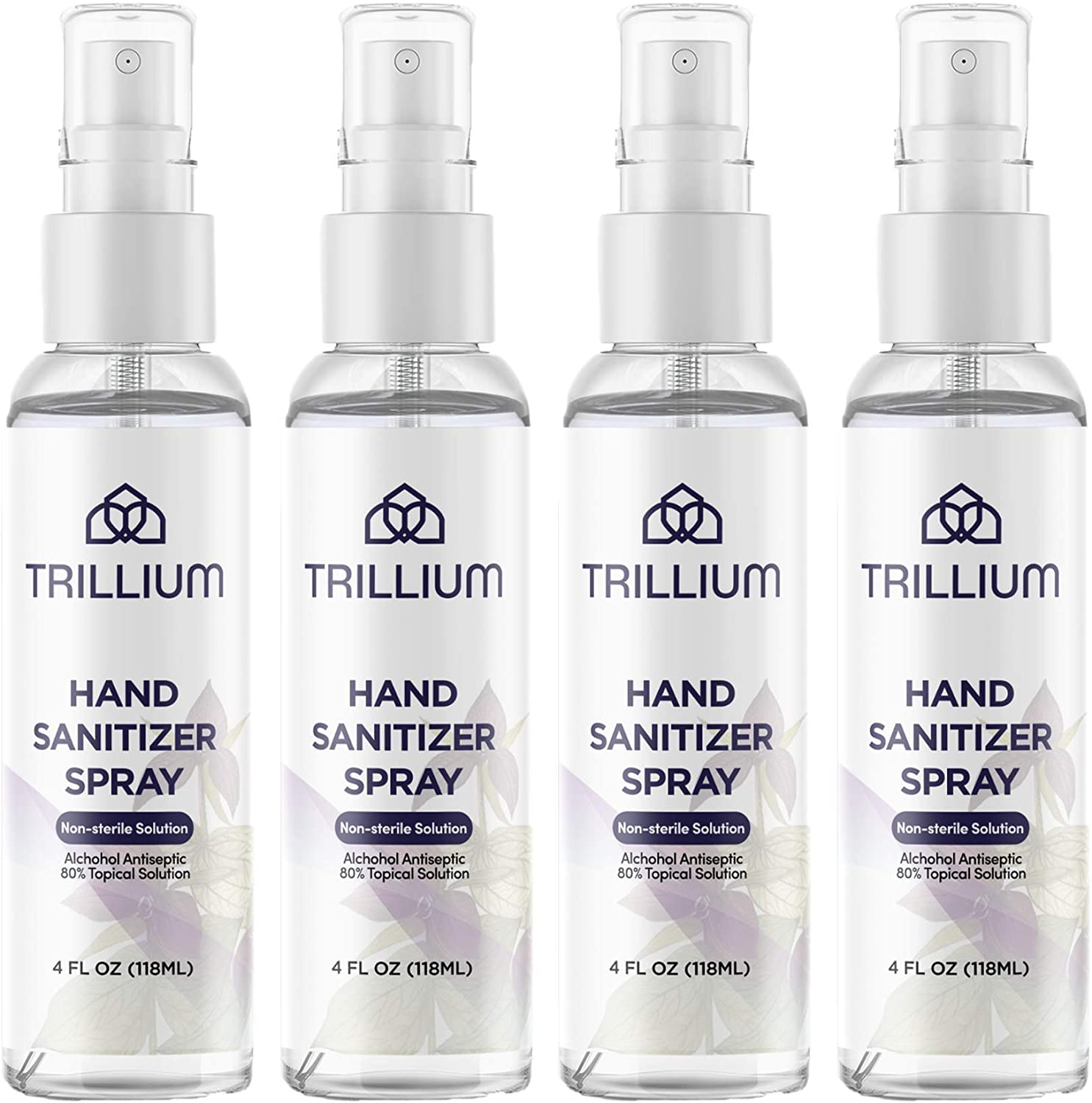 About this item
HIGH POTENCY FORMULA: Trillium's MADE IN THE U.S.A. sanitizer is formulated with 80% Ethyl alcohol distilled from plant biomass, glycerin, hydrogen peroxide and purified water USP. No added fragrances or unnecessary chemicals. Just a powerful, high alcohol content sanitizing spray that reduces bacteria that can potentially cause disease.

NO ARTIFICIAL FRAGRANCE: Consumers may notice a stronger antiseptic smell compared to other hand sanitizers as a result of the highly potent, 80% alcohol formula that uses denatured alcohol and includes a bittering agent to deter and prevent consumption.

PORTABLE & CONVENIENT: The Trillium 4oz Spray Bottle is the perfect travel size disinfectant spray to carry throughout your day, on a commute, to the grocery store, to the gym, or any time you encounter public spaces.

LIQUID ANTIBACTERIAL SPRAY HAND SANITIZER: Unlike some gels that leave a sticky film on hands, the Trillium liquid hand sanitizer spray leaves no residue. Application can be done easily and discreetly in any situation so you can sanitize on the go.

BULK FOUR-PACK: Includes four individual bottles. Protect yourself and the whole family during any season. Each person can have their own spray bottle or you can store and save the extras for later.
From the manufacturer
Product description
Portable, convenient hand sanitizer is now an important part of anyone's personal hygiene. Trillium's 4oz Spray is the ideal solution for navigating daily life in public spaces when soap and water aren't available—grocery stores, offices, gyms, public restrooms, door handles, the gym, subways, ride sharing, restaurants. Our 4-pack is a perfect purchase for families, to carry a personal hand sanitizer bottle in your gym bag, car, and home, or to stock up so you never run out of our instant disinfectant spray.
Disclaimer of Liability: 
In preparation of this sites, every effort has been made to offer the most current, correct and clearly expressed information possible.  Nevertheless, inadvertent errors in information may occur.  In particular but without limiting anything here, www.jacksonsempire.com disclaims any responsibility for typographical errors and accuracy of the information that may be contained on www.jacksonsempire.com web site. www.jacksonsempire.com also reserves the right to make changes at any time without notice. 
If misleading, inaccurate or otherwise inappropriate information is brought to our attention, a reasonable effort will be made to fix or remove it.  Such concerns should be addressed to us.
Estimated Shipping Disclaimer
Please note that shipping charges are estimated and do not take into account multiple, oversized packages or insurance. We estimate shipping costs in order to keep shipping costs as minimal as possible. Actual shipping charges will be calculated and added when your order is processed. If there is a significant increase in shipping your order will be held and you will be contacted. We apologize in advance for any inconvenience this may cause you.
If the shopping cart failed to properly calculate shipping cost
and your shipping amount was not reflected in your online shopping cart receipt, we will calculate it manually only charging you our actual cost.
If you would like to be notified about the shipping amount before we ship your order, please place a note to notify you in the "Special Instructions / Notes" field during checkout.
This may be due to the service you selected being unavailable for your location, formatting issues, malformed Postal/Zip codes, items weighing more than 150 lbs. or your order being split into multiple packages.