Nature Box HairNature Box Hair Repair Cream - for Split End Control, with 100% Cold Pressed Avocado Oil, 5.1 Ounce Repair Cream - for Split End Control, with 100% Cold Pressed Avocado Oil, 5.1 Ounce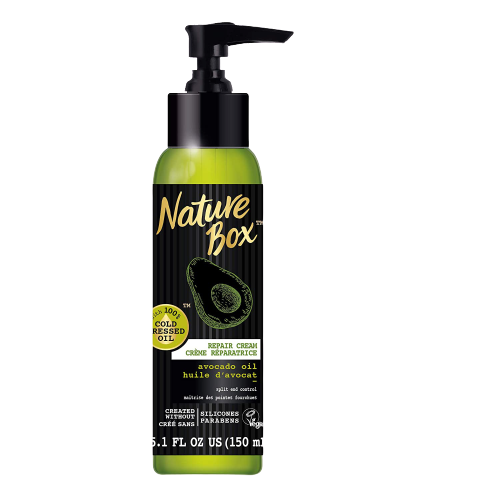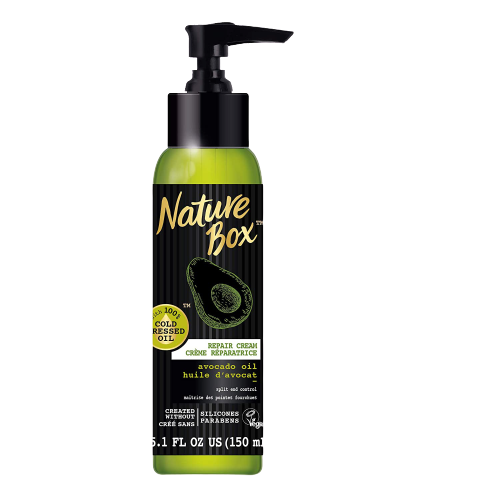 About this item
WITH 100% COLD PRESSED OIL: Repair Cream formulated with 100% Cold-Pressed Natural Avocado Oil, including the antioxidant Vitamin E.

RINSE-OFF OR LEAVE-IN: Suit your hair's needs with this adaptable formula- Rinse off after 1 minute or leave in on towel-dried hair.

HAIR REPAIR: Control split ends and deeply repair your damaged hair!

FORMULATED WITHOUT: This hair treatment is formulated without silicones, parabens and artificial colorants.

VEGAN FORMULA: 100% Vegan formula so your hair AND heart can feel good about the product you are using.
---
From the manufacturer
Nature Box Beauty
Beauty products for hair and skin.
An exciting brand that combines effective beauty care with cold pressed oils and select sustainably-sourced ingredients.
Created without:
Silicones

Sulfates*

Parabens*

Artificial Colorants
*Formulas vary by product. See packaging for details.
With 100% Cold Pressed Natural Oil
Our oils are extracted from the heart of fruits and nuts by a process called 'cold pressing'.

This involves pressure without heat & chemicals, so the natural oils release from the ingredients.

Each Nature Box product is made with 100% cold pressed natural oil!
Benefits of Nature Box
With 100% Cold Pressed Oil

Vegan

0% Silicones

0% Artificial Colorants

Note: Please refer ingredients list for more information.
Product description
Renew dry hair and protect it from split ends. Reap the benefits of New Nature Box Avocado Oil Repair Cream, which contains 100% cold-pressed, natural avocado oil and the antioxidant, vitamin E. This unique cream treatment is formulated without silicones, parabens and artificial colorants. For best results to provide deep repair and split end control, use in combination with New Nature Box Avocado Oil Shampoo and New Nature Box Avocado Oil Conditioner.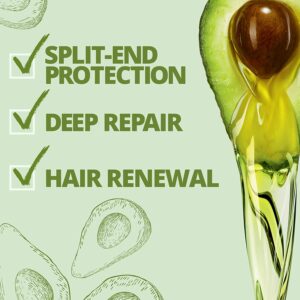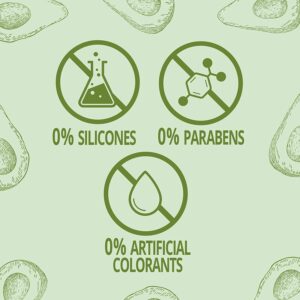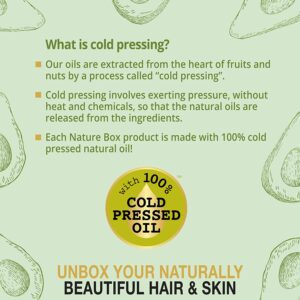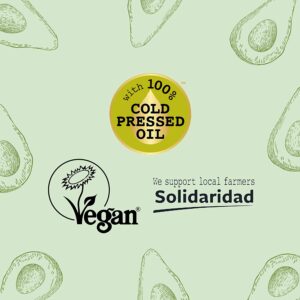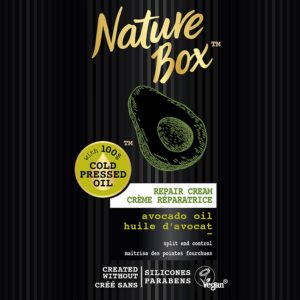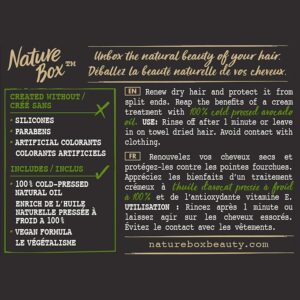 Disclaimer of Liability: 
In preparation of this sites, every effort has been made to offer the most current, correct and clearly expressed information possible.  Nevertheless, inadvertent errors in information may occur.  In particular but without limiting anything here, www.jacksonsempire.com disclaims any responsibility for typographical errors and accuracy of the information that may be contained on www.jacksonsempire.com web site. www.jacksonsempire.com also reserves the right to make changes at any time without notice. 
If misleading, inaccurate or otherwise inappropriate information is brought to our attention, a reasonable effort will be made to fix or remove it.  Such concerns should be addressed to us.
Estimated Shipping Disclaimer
Please note that shipping charges are estimated and do not take into account multiple, oversized packages or insurance. We estimate shipping costs in order to keep shipping costs as minimal as possible. Actual shipping charges will be calculated and added when your order is processed. If there is a significant increase in shipping your order will be held and you will be contacted. We apologize in advance for any inconvenience this may cause you.
If the shopping cart failed to properly calculate shipping cost and your shipping amount was not reflected in your online shopping cart receipt, we will calculate it manually only charging you our actual cost. If you would like to be notified about the shipping amount before we ship your order, please place a note to notify you in the "Special Instructions / Notes" field during checkout. This may be due to the service you selected being unavailable for your location, formatting issues, malformed Postal/Zip codes, items weighing more than 150 lbs. or your order being split into multiple packages.